Fragments are special materials which can be combined into Components, allowing the creation of Legendary items.
Obtaining Fragments
[
]
Fragments can be obtained from Treasure Caches, Secure Lockers and Treasure Chests.

Treasure Cache
[
]
Besides an Epic Weapon/Ability/Armor/Module, Epic Caches may contain a Treasure Cache. Treasure Caches will award 1 guaranteed Fragment[1].

Secure Lockers
[
]
Dropped as a random mission reward, Secure Lockers have a random, small chance of containing a Fragment.
Each Locker requires 1 Security Key to be opened.
Secure Lockers provide 1 Rare (Blue) Weapon/Ability/Armor/Module Cache, which in turn have a small chance of becoming an Epic Cache when opened. As described above, Epic Caches have a small chance of containing a Treasure Cache, with a guaranteed Fragment.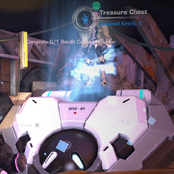 Treasure Chests
[
]
At the end of Hardcore missions/raids there is a Treasure Chest, which requires 2 Security Keys to be opened. Any of the 5 (or 10) players may use their keys, as long as 2 are used. When opened, this chests have a chance of containing a Fragment.
Components
[
]
Alien Polymer: 50x Alien Fragments
Biomorphic Goo: 50x Biomorphic Fragments
Celestial Feather: 50x Celestial Fragments
Dark Matter: 50x Dark Fragments
Dimensional Pocket: 50x Dimensional Fragments
Dynamic Suspension: 50x Dynamic Fragments
Evolving Alloy: 50x Evolving Fragments
Exotic Chemicals: 50x Chemical Fragments
Flawless Frame: 50x Structural Fragments
Fusion Core: 50x Fusion Fragments
Impossible Catalyst: 50x Catalyst Fragments
Inconceivable Element: 50x Elemental Fragments
Indestructible Matrix: 50x Matrix Fragments
Mysterious Metal: 50x Metal Fragments
Semi-Conscious Nanotech: 50x Nanotech Fragments
Stasis Generator: 50x Stasis Fragments
Supercharged Capacitor: 50x Supercharged Fragments
Superconductive Fabric: 50x Superconductive Fragments
Terrible Machine: 50x Disturbing Fragments
Unobtanium Strut: 50x Unobtanium Fragments
Weather Control Device: 50x Electrified Fragments
Legendary Items Available
[
]
References
[
]