ATTENTION!
This article contains material that is verified from a Beta Tester.
The content you see here is in the current version, but is still subject to change.
Silicate[CY] is one of the polymer crystite hybrids and is used as a material in manufacturing and refining processes. It is a highly resistant red crystal that can be found underground and in form of surface deposits.
Three qualities of this crystal have been found to date: CY-242, CY-193, CY-12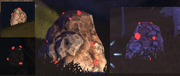 Nodes of Silicate can be found dotted across the landscape. They drop between 120-250 per node (split between two item drops).
Since this variant of the silicate type polymer crystite (PolCry) is found in nodes across Copacabana, this has been selected as our template. Min/Max values have been generated from the lowest/highest of all three variants of this type of PolCry
Resource - Silicate
Hybrid type
polymer
Resource Qualities:
Conductivity
MIN:~126 MAX:~264
Density
MIN:~141 MAX:~531
Malleability
MIN:~14 MAX:~453
Reactivity
MIN:~18 MAX:~453
Resistance
MIN:~574 MAX:~613
Qualities taken from sample [CY-242]
Dots represent the minimum and maximum values of all know variants of this type of PolyCri.