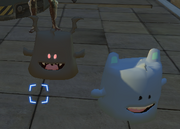 The Merch Pet is a character from the Penny Arcade Comics[1] that was available until September 30th of 2012 [2]. First appearing after the v0.5.1455 beta Patch.
The pet was offered as an incentive to get people to join the Firefall community. With each e-mail referral earning you 20 (figurative) Crystite and each accepted referral (with account creation) earning you 200 Crystite. When the account had earned 440 of the Crystite from referrals, a Merch pet was issued to the account.
The joke behind the pet is that poor players with the pet would have the pet reflect their lack of funding by having it's mood change. While no official figures were given, players were able to determine the values[3] to be the following:
| | |
| --- | --- |
| Mood | Crystite in your Inventory |
| Happy | 5,000+ |
| Sick | 1,500 - 4,999 |
| Angry | 0 - 1,499 |
While spending Red Beans can encourage it's mood to change, it is presently unknown to what degrees or extents the mood will change.
References
Edit